Modernized family reunion
Has it been a while since you've really connected with extended family?  When was your last family reunion? It's been a while, right?!?  We feel you!  This month is all about helping you deepen your family ties and create moments that matter. Getting together with your family can help you or other family members feel less lonely, more connectedness and remind them that they're a part of something much bigger. It can also create happy memories, opportunities for forgiveness and provide chances to give and receive extra support.
We know family reunions can be overwhelming to plan.  So for the next 21 days, we'll help you prepare for a family reunion, give you tons of ideas that you can craft and configure according to your family's interests, time constraints, and even current geographical locations. All activities are versatile and executable virtually, in person, or both. Oh, and HOT TIP, no need to try and do all of these ideas. Pick and choose the ones that speak to you and your family dynamics. It's all about making the connections!  Let's go!! 
(Look for a link to the scavenger hunt on day 14)
Jump ahead to the day you'd like to see.
Be sure to take the pre experiment survey before you start and come back and complete the post experiment survey when you are done.
"The only thing sweeter than union is reunion." – Kathleen McGowan
Knowing your why is a good way to focus the activities at your reunion and to consider your reunion a success when it's over. To discover your why, consider what the deeper purpose is behind your desire to gather your family. While "getting together with the family" is technically a purpose, ask yourself why a few times to get a few levels deeper. Some ideas would be if you wanted to help family members feel less lonely, then you'll want to cultivate relationships between the generations; or you may want the family to collect as many stories about a common ancestor. Now that you know your purpose, write it down, and remind yourself of it as you plan your reunion.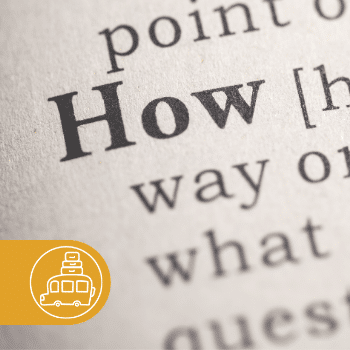 "Like branches on a tree, our lives may grow in different directions yet our roots remain as one" – Unknown
Choose the platform for your reunion. Find what works best for the members of your family. You could do it in person, virtual, or a combination of both. Consider your purpose, technology comfort level, distance between family members and cost. Next, choose a date to have your reunion. Give your family enough time to plan and prepare for it. 
Tip: An online reunion can be planned and implemented much quicker than an in person reunion, and while we're all still in virtual mode, now might be a great time to try it.
Operation Social Media Connect
Once you have planned your why and how you'll want to involve your family. Social media is one of the best ways to communicate with your family. Social media can create engagement among the family well before the reunion itself, it's an incredible way to share memories and photos, the communications live on long after the reunion is over, and it can also be a great source for hosting the virtual family reunion itself.
Today use social media to start reaching out to your family and invite them to invite more. As your list grows you can then invite them to your family reunion by collecting mailing addresses to mailing physical invites, you can collect emails for email invites, or you can simply invite them using that social media platform.  During your communications, be sure to let family members know what to expect and how they'll need to prepare; like what online platforms they need to have access to in order to participate, or what they need to bring to the reunion. Most importantly get your family excited about getting together! 
Tips: Keeping up with all the communication can be a lot, delegate this task to family members who want to help. Include your family in decision making and be sure you communicate dates and times well in advance. 
For many reasons you may be choosing to do a virtual reunion. Zoom, an online video conferencing software, is a product that most people have used in the recent past, and it's also easy enough to figure out if they haven't. On a Zoom video conference you can see and hear your family and chat in real time. You can play games, share stories and photos, and interact just like an in person reunion, but you can also record it for preservation and sharing later on. You can enhance your social media reunion by adding a Zoom, or other video conferencing event. Check out our virtual reunion planner, here, to find other virtual reunion ideas. 
Tip: Follow along with the next 15 days to get fresh and fun ideas for making your reunion rock! Be sure to take notes of the ones you want to use and start working out the details now, so you'll be ready to go when your reunion arrives.
"The best memories are made around the table." – Unknown
Family recipes tell a story; they remind us of people, places and cherished memories. Have a family favorite potluck dinner. Everyone should choose and make their favorite family recipe (individual or extended family). Share the food in person or virtually (pictures or video). Make sure family members share what makes this dish special to them, what memories (good or bad) are brought up by this food and of course the recipe. Or do a virtual bake off with a favorite family recipe. Give everyone a copy of the recipe and make it together. While cooking be sure to share memories from this recipe. 
Tip: Making a family cookbook is an awesome way to preserve family recipes and memories. An easy way to do this is with an online, shareable document; like Google docs. Share the document with your family and everyone can start adding their favorite recipes past and present.
"Music is the soundtrack of your life." – Dick Clark

Ask each family member to contribute meaningful or favorite songs to add to a playlist. Create a playlist with these songs. Be sure to share who contributed the song and why. You could play it as background music at your traditional reunion, or turn it into an awesome dance party live or online!

Tips: Consider adding or having a separate playlist for songs Grandma and Grandpa used to listen to.

"Family is essential because we all yearn to feel like we belong to something greater than ourselves." — Laura Ramirez
Sharing stories is one of the best parts of reunions. Story time can be hard for some people, either when sharing stories or paying attention to stories. To help everyone feel comfortable sharing and listening to stories try changing it up by acting out stories, singing the story, or having people bring an object that reminds them of that story. Each family could choose a family story then act it out, or the family could pick an ancestor and tell "their" story. You could give a family a bag of random items and have them tell a family story with the items in the bag.
"The secret is to make sure your family comes before anything else, because no matter what you do you've got to come home."  – Barry Gibb
Play a game with your family. Games are a great way to connect with family and create memories. There are lots of games that you could play at reunions, either in person or virtually. The games could even teach you about your family. Explore the BYU Family History Lab to discover games that use your family tree. You could create your own game using a program like Kahoot.it, Google Slides, or even use one of our Idea Generators to help you create a fun interactive game for you and your family.
* Requires a free account with FamilySearch
Your family's history has been going on for awhile. To see where in your family's timeline you fit in, make a family timeline! You can use butcher paper or an online whiteboard or some other program. Start with the year of your common ancestors' births and bring the timeline to the current year. Fill in your common ancestors' life events such as birthdays, marriage dates, death dates, big moves, etc. Then add your family members' birthdays, marriage dates, death dates, big moves, etc. . . for a great whole family visual.
Learn how to use virtual whiteboards here.
Tip: Use Enwoven to create a virtual timeline that your family can add their events to before, during, or after the event.
"I define connection as the energy that exists between people when they feel seen, heard, and valued; when they can give and receive without judgment; and when they derive sustenance and strength from the relationship." – Dr. Brene Brown
Tell each other your own stories as you gather. Learn about and make connections with your family. You could provide questions to ask each other to get the ball rolling or just have everyone share stories about one question. Don't be afraid to dig a little deeper, such as "Tell us about a choice you made that changed everything for you," this is where you learn the most about your family members. If everyone is comfortable with it, be sure to record the stories shared. 
Tip: Use our Interview Question generator here, for some questions to ask. 
"Talent can't be taught, but it can be awakened." -Wallace Stegner
Every family is full of talent, even if they don't realize it! To prove it, have a talent show. Have a display area for those who want to share a talent that is not a performance.  At the end of the night give awards, in categories like "funniest talent," "most surprising talent," or "I could do that."
"The best thing about a picture is that it never changes, even when the people in it do." – Andy Warhol
Finding motivation to scan photos and other items is hard. Have a scanning party where everyone comes together, in person or virtually, to scan family photos and items. This can be one of the most memorable activities of your reunion. Memories may be sparked while seeing these items, so make sure you record the stories shared. If someone doesn't have something to scan, have them help label the photos with names, dates, places and stories. Create a place where everyone can share their items as they are scanned, such as Collectionaire (how to video , Enter 21CONNECT for 50% off any annual subscription to Collectionaire for 2 years) or Google photos.  
Tip: Don't have a scanner/computer setup?  No problem. There are lots of great scanning apps you can use right on your phone. 
"Stories have to be told or they die, and when they die, we can't remember who we are or why we're here."  — Sue Monk Kidd
A family's history can be spread out over all the earth. Create a walking, driving, or GoogleMaps tour, to bring these places to life. Highlighting places that are meaningful to your family such as where your common ancestor lived, schools attended, or cemeteries. You can look up census records and city directories to find specific addresses. You could also do this with the homes of current family members. 
Tip: This is a great activity to delegate to a willing family member who loves maps. They could even make it a race to find the locations for a fun competitive spin.
A great way to increase connection at a family reunion is to have a scavenger hunt. Create a list of things that members of the family can hunt for to bring and or share at the reunion.  Give prizes for "most creative", "most accurate", etc. . . . 
Tip: Our Connections Scavenger Hunt will provide you with a lot of good ideas for your scavenger hunt or can just be played live at a virtual reunion. 
"Catching up with family is the best part of every family gathering" -Olivia Jewell
One of the best ways to connect at family gatherings is to get an update on what each family has going on in their lives. Seeing all the common events, challenges, and successes that the different families share, creates bonding, kinship, and can even help create opportunities to be a great support system to each other.  Take some time during this reunion to have each family update everyone about what their family is doing now. What are some recent accomplishments, challenges, and focuses of their family since you last gathered. Having each person introduce themselves and share something specific can be a fun way to do this as well. 
Tip: You could create a slide template and have people add their photos and information before the reunion. We have included slide templates in our Virtual Planner, buy it here.
Small acts, when multiplied by millions of people, can transform the world. – Howard Zinn
Together as a family you can do a lot of good. Have each family do a service project in their area or have a big project you can work on together. If you do the service project apart from each other, make sure to share at your reunion what each family did. This is another great way to use a slide show to share the different projects each family participated in during your virtual or in person reunion.
Tip: You could have a service hour counter for your family. See how high you can get it by the next time you gather together.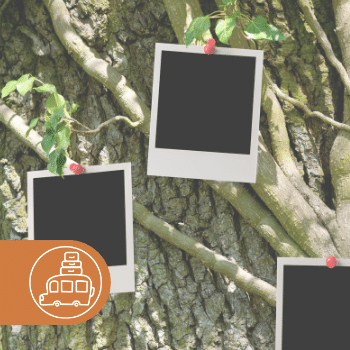 You are a part of a huge family tree. This tree includes your ancestors as well as your cousins, uncles and aunts, and their kids. Help the whole family see the big picture by creating a living family tree. This is a great way to help family members see how they are related and learn everyone's names. 
Start with a photo of your common ancestors at the top of the tree. Place photos of their children (and spouses) below that, then their grandchildren (and spouses) below that, continuing until the current generations. Be sure to write everyone's name by their photos. You can do this in person by printing photos and attaching to a wall or virtually by using a whiteboard or other digital programs. 
Tip: Use a program like Collectionaire to enter all the family information into a virtual tree that can be shared and added to, both before and after the reunion. Enter 21CONNECT for 50% off any annual subscription to Collectionaire for 2 years."
Family members are a treasure trove of family information and stories. Some remember different stories then you do, some even remember the same story but differently! Take time to share and document stories of the past. What memories does everyone have of your common ancestor? Focus on these ancestors and see how much you can learn about them. Have the family members who knew your common ancestors answer questions live so the rest of the family gets to know your common ancestors better. Be sure to record the stories that are gathered so you can share and preserve them.
"Generations pass like leaves fall from our family tree. Each season new life blossoms and grows benefiting from the strength and experience of those who went before." 
– Heidi Swapp
Recreate your family photos. Bring back some of your most cherished family memories by recreating your favorite old family photos. Dig up old family reunion photos and strike similar poses, recreate your favorite great grandma and grandpa photo, or recreate your own younger self photos to share. Even your most cringe-worthy photos will take on new life and hilarious memories with a fun reset.   
Tip: Make sure to take a photo and use our MMM to compare the two photos!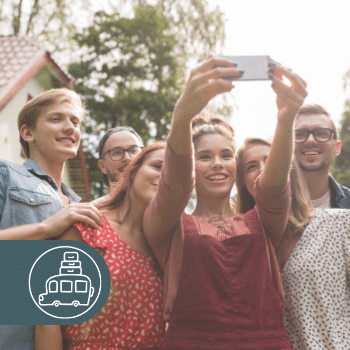 Once this reunion is over, you'll have had so much fun, be sure to create something to remind you of it. It can be something visual like a photo reunion video, a photo book or your favorite reunion photo framed. You could get creative and create a family tree with fingerprints, handprints or even photos. Something simple and fun would be to create your own family crest using a list of symbols and what they mean. You could create something to wear like a necklace, ring or t-shirt. No matter what you pick it's sure to remind you and all those who attended of the fun times you had and of the importance of connecting with family regularly, even distant family.
"Proper communication will always be a main ingredient for building family solidarity."
– Marvin Ashton
Create and share a family directory. Directories can be printed for handing out in-person and/or can be accessed online. This is a great assignment that can be taken on by a few family members who want to give the gift of staying connected, even after the reunion has ended. Organize the directory in a descendancy chart form, listing full names, phone numbers, physical and email addresses. Make sure to mention to family members to keep this information confidential and only use it for family communications. 
Tip: There's a directory template in our Virtual Reunion planner, buy it here.