Scanning Your Stuff: Top 10 Tips for Beginners
Written by: Olivia Jewell Family Connections Experiment Project Director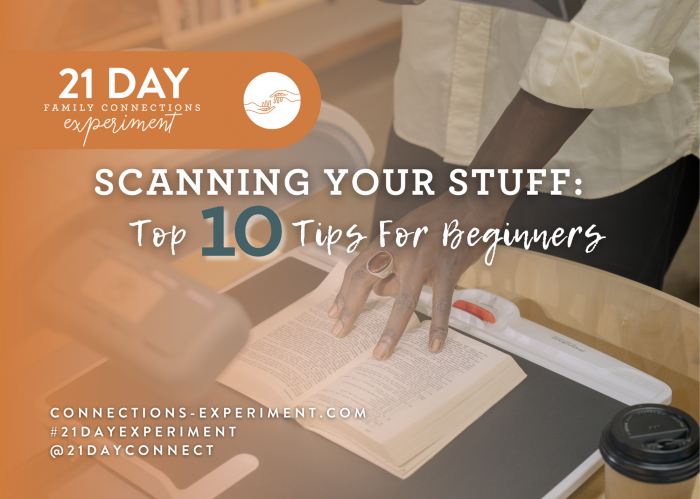 So, you've got lots of stuff, and you know that you want to digitize, preserve, and archive it, but you really aren't sure where to start. Use this guide to help you determine what you have, what you need, and how to best accomplish this incredible task. 
First of all, assess what you've got and what you can and want to digitize.  You'll likely be surprised at the things that you'll find as you start to dig.  Things like photos and documents are easy to scan, but many of us have things like film, tape, & heirlooms that can be a little more tricky to digitize.
Next, learn a bit about file formats and resolution. The industry standards change and quality continues to improve, so it's important that you know what quality you want to use to digitize your memorabilia. More is not necessarily better here as, at a certain point, you no longer get a better image, just a bigger file taking up space on your hard drive. You'll want to know what your ultimate goal is…are you digitizing for display, preservation, or just as back up.  The industry standard currently is to use 600 dpi when digitizing. You'd only really want to do higher dpi if you had a small image that you would later like to blow up.
Now you'll want to decide which approach is best for you, so the first 3 things you need to know, are what your options are as far as how to get your scanning done:
1 – Mail it to a PROFESSIONAL:
There are tons of companies out there, and you can do some research to find your favorite. A great option I recommend trying is Capture. They've been around for a long time and have experience with all different types of media including: film, video, photo, and digital media types.  They seem to be reasonably priced, digitize just about anything, and have an easy-to-use platform.
2 – Hire in a PROFESSIONAL:
This is a great option if you have a lot of super valuable or fragile heirlooms and if you just can't stand the thought of mailing your precious heirlooms out.  I recommend researching professional services in your area, but one I can recommend checking to see if it's available is DoorStep Digital.This company schedules an appointment to come to your house, and they bring all of their equipment in a big van to your doorstep. They can scan anything from photos, slides, videos, film, tapes, and more. 
3 – Do it YOURSELF:
Do it yourself scanning: This is my preferred method because, if you invest the time in learning to do the scanning yourself and acquiring the skills and equipment, you can chip away at the project a little at a time … which is more manageable and leaves you open to new projects that come your way.
How To DIY 
One way to DIY is to purchase equipment that meets your scanning needs. Another is to find local public resources where you can use their equipment to digitize your stuff. A few ideas of where to look for possible local resources:
Local libraries: Most local libraries have scanners available. If you call ahead they can tell you what kinds of scanners are available for patron use.
Universities: Universities have the latest and greatest in digitizing and most have even the harder-to-find digitizing equipment for things like film. Call the university to see what is available for public use.
FamilySearch Family History Centers: FamilySearch has family history centers all over the world, and most are now equipped with high speed photo scanners. Some have even more equipment including VHS converters, slide scanners, and more. Find one near you here.
I definitely recommend purchasing equipment when you have a large amount of items that require the specific scanning device. Using public scanners and hauling your large boxes of heirlooms around isn't ideal, especially when you have large quantities. Another advantage of purchasing equipment is that once you invest in the equipment you'll find additional uses, and you'll be able to reach out to and help extended family who also have those items.
Visit Our Online Store
You will find downloadable resources to help you connect more with family past and present.
What else do you need to know about scanning if you're a genealogist or just the lucky one who ended up with all the family treasures? Here are the 6 things you need to know about scanners as you start searching for equipment to do the job. Let's look at different types of projects and what types of scanners you'll want to look for:
4 – Photos & Documents  
If you have any more than a few hundred, I recommend investing in a high speed scanner. It will literally save you hundreds of hours.  Flatbed scanners are just way too slow for documents and photos when you have a large quantity. Many local resources have these though, so if you don't mind lugging your stuff around you're likely to find one nearby. 
5 – Book Scanners 
Unless you have a lot of books, using public resources is probably best here.  Book scanners are pretty pricey and most of us don't have more than a handful of books worth digitizing. FamilySearch has fairly robust book scanning resources.  You can learn more about donating books, having them scanned, or finding a center near you where you can take your books. Check out their book scanning page here, and find the best method for you. 
6 – Slides
These can be super time consuming if I'm being honest.  Even high speed slide scanners really aren't very quick, but if you have more than a handful, you'll definitely need a high speed scanner or you'll want to just use professionals.  Due to the time-consuming nature of digitizing them, I recommend sifting out ones that don't really matter first. Just plan on this project being a little slower than your photos and documents. There will likely be a higher cost per slide, too.
7 – Heirlooms 
One of my very favorite scanner purchases is my Shotbox (get a Family Connections Experiment discount here). Shotbox is a light box designed to help you image heirlooms, scan books, or any other items that don't fit on your classic flatbed scanner. It creates perfect lighting for any item and is light and portable for all of your digitizing needs. As a super versatile and reasonably priced item, this would be one of the first items I recommend investing in.
8 – Tapes: Audio and Video 
This one's fairly simple.  You just need a player for the tape and the right cables.  A quick Google search should find you the right cable, but they also sell players that plug directly into your computer if you don't already have a player.  You'll just need to install the program on your computer, and they're usually pretty user-friendly. You can also purchase all-in-ones that bypass the computer and scan straight to the thumb drive.  Either way works great; you just need to do what works best for your projects.
9 – Film 
Hire a professional. I've read tons of DIY blogs about digitizing your old films, but you need the equipment to play the film first.  Then it's a huge project to set up and record, and the quality of the recording is only as good as whatever equipment you've got playing and recording it. So my opinion on this one–leave it to professionals OR look into the local university to see if they have anything you can use.
The last and possibly most important thing you'll need to know about scanning before you begin is: 
10 – Personal Preservation Planner
No matter which method you choose and which equipment you decide to use, the best way to tackle any scanning project is to start by creating your own personal preservation plan.  I recommend downloading our Personal Preservation Planner or trying our 21 day plan Preservation Station. Working through the plan or using your planner is your best chance at creating an organized, logical, and streamlined plan for all of your current and future scanning projects.
These 10 points should get you started on your own scanning projects. Just know that the project will likely get bigger as you go, so just take it a bit at a time. You'll learn a lot and adjust your approach as you go and find what works best for you. As you do, your personal preservation plan will make it easy and clear how to adjust and plan moving forward.