Swapping Stuff? Use Google Photos!
Is everyone getting ready for a virtual family reunion soon and you are wondering how to have the same experiences you had as a kid being able to sit around and hand around photo albums? Or exchange pictures of recent trips or major events? Well luckily even though the world has changed and we might not be able to meet in person we will still be able to share all of those awesome photos. 
Google photos is wonderful in that you can upload all of those photos you were wanting to share, divide them into different albums (if you are really on top of it or feeling super organized), and then share with family. 
Never used google photos before? Or still have some concerns about how this is all going to work? Well keep reading and let's help you out. 
The Basics of Google Photos
Never used google photos before? Well you're in luck because it is pretty simple. The first thing you will need is a google account. You have one if you have ever set up gmail before or used other google products like google drive or google docs. If you have an account you can skip to step two. If you don't you will need to start with step one. 
Set up a google account. Click here and then fill in the information it asks for. It will ask for things like what would you like your email/username to be, your name, your birthdate and create a new password. 
Next step is to go here and login into your account. 
Good Job you now have a google photos account and it is time to discover its amazing features. 
Upload
To add and upload your photos to google photos you will use the upload button. It looks like this:
So simply click the upload button and then click from computer. Once you have done that select the photos you want to upload. Then press upload and they will upload. 
On a phone as soon as you download the google photos app and give it access to your photos it will start adding them to your google photos. No upload button required. 
Albums
Like I said before maybe you are the super motivated or super organized type. Or just happen to have some extra time on your hands and want to put the photos into albums. This is pretty simple as well. On a computer simply click albums, it is found on the left hand side of the screen as one of the menu options, then click create albums.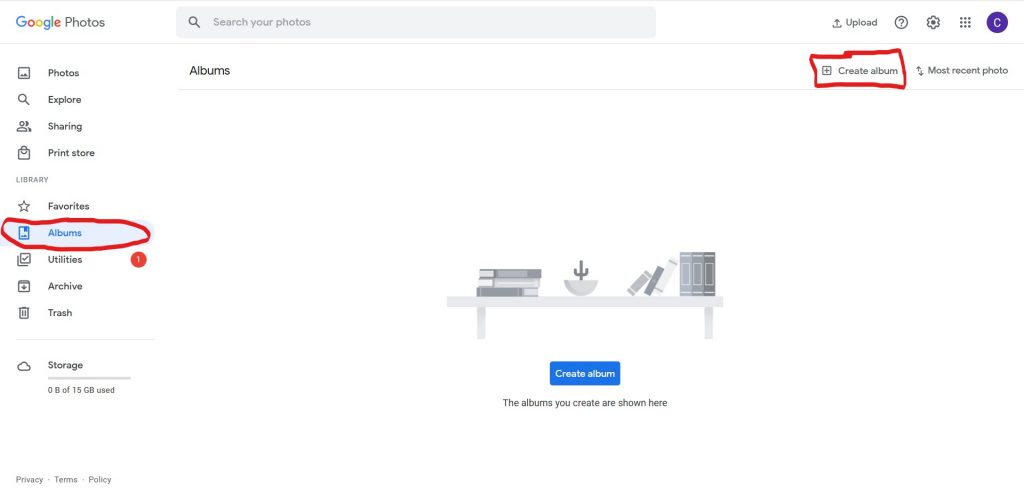 Buttons highlighted in red
Then it will pop up a new screen where you can add a title to the album. Next go ahead and press add photos and select the photos you want to add. You could organize by family group, year, place, or something else. It is entirely up to you. 
Sharing
This is the fun and arguably the most important part. Sharing the photos! To share an entire album of photos go to the album by clicking on it and then in the upper right of the screen there is a button with a sideways open triangle. It looks like this:
Once you click on it you will be given a few options:
First is to type in email addresses individually and anyone whose email you put in will be invited. 
Second you can press create link. Then copy that link and share with anyone you would like to have access. 
Next is facebook. This button will open up a screen where you can share the link to your facebook page. 
Finally, you can press Twitter and it will allow you to share the album to your Twitter. 
If instead of sharing an entire album you would instead like to just share one or two photos that is an option too! To do this go into your photos and select/ click on the photo you would like to share then click the share button (image above) and then choose which way you would like to share. The sharing options are the same as sharing an album. 
Google photos is fairly private. Only you can see what you upload unless you share an album or a specific couple of photos with another person. Putting photos anywhere always has some risks but overall this a pretty good way to keep photos you don't want shown to the whole world private. 
It is important to remember that most living people have an opinion about their own privacy and if you are sharing photos or living relatives you might want to ask them if that is okay before you share. Most will be totally okay showing off their teenage years to their grandchildren but might not be comfortable with you sharing the photos on a public social media page. So ask before you post!
Unfortunately as of June 1, 2021 google photos does now have a photo storage limit. Before June 1st there were zero limits and you could upload as many photos as you wanted but now with a free account you have 15GB of google space. So this includes everything in your google drive from all of those documents to all of the photos you are uploading. This is a fairly high limit for zero charge but is something you may want to keep an eye on. If you do run out of storage you have a few options.
Upgrade: for $19.99 a year you can get 100GB with google one. 
Delete extra photos or old documents you no longer need.
Create a new account or additional account just for photos. 
Upload your photos elsewhere. If you have thousands or hundreds of thousands of photos you may want to choose a different place to upload your photos with larger storage options.