Your homeland is where your family story began.
Learn about your homeland—the world your ancestors lived in— including the dress, art, music, food, and more.
*All activities with a * require a FamilySearch account to participate in that activity.
If you don't have one please set one up with a tree or find another activity for that day.
A homeland is a place where a family story begins. What country (or countries) is your family from? Choose a country you'd like to learn more about and do some basic research about it.
FamilySearch Tip: You can use the birth countries fan view to help with this activity.
Bonus: We're CONNECTING with COUSINS today! Visit Relative Finder today and join the group "Connections-Experiment" to see how many of your cousins are participants in the experiment! (You will need a free FamilySearch account for this to work)
Look up the major events that happened in your homeland. Create a simple timeline to capture when they occurred.
Tip: Include your ancestors in the timeline. Add when they were born and died. Study how the major historical events could have shaped their lives.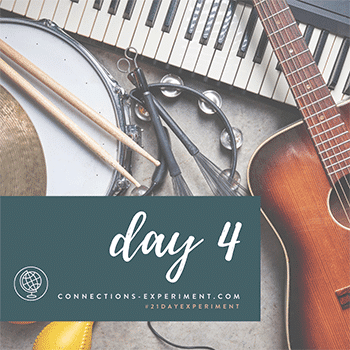 "I think music in itself is healing. It's an explosive expression of humanity. It's something we are all touched by. No matter what culture we're from, everyone loves music." -Billy Joel
What does traditional music sound like in your homeland? Spend some time today listening to different traditional music from your homeland, especially music from the time your ancestors lived there. You can also look up some popular songs in the language of your homeland. See if you can find the translation of the words so you can follow along.
"If culture was a house, then language was the key to the front door, to all the rooms inside." Khaled Housseini
Does your homeland speak another language than you do? Find some common phrases that you say a lot and write them down in the language of your homeland. Put them in places you would normally say these phrases and say them in your homeland's native tongue instead of yours! You can also search for apps to teach you the language.
Find out what food they ate
"Food for us comes from our relatives, whether they have wings or fins or roots. That is how we consider food. Food has a culture. It has a history. It has a story. It has relationships." Winona Laduke
Food is the universal language. Research what your ancestors might have eaten when they were living in the homeland. What is popular in the country to eat now? Is it different? Do you have family recipes from this homeland? Start to collect them. Call family and ask them if they have any recipes from the homeland. If not, a simple search can bring you lots to try.
"A recipe is a story that ends with a good meal." -Pat Conroy
Pick one of the recipes you found yesterday and cook some food from your homeland! Trying new foods is a great way to grow and connect with others.
Head to your local library (or wherever you get your books) and look up books about your homeland. Don't discount picture books! Spend some time browsing these books and learning everything you can about your homeland.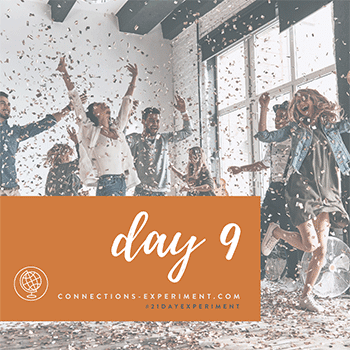 So you think you can dance?
"Our culture is our strength be it music, dance, poetry or anything, and these are very precious." Narendra Modi
"If you want to be happy in a million ways, for the holidays, you can't beat home, sweet home" lyrics to Home for the Holidays
What holidays does your homeland celebrate? What food is included? Are there special activities that happen on those days? Pick one holiday and make a plan to celebrate it. Start gathering the things you need, put a reminder in your calendar, and invite family over to enjoy and learn about their homeland, too.
Look for famous artists and artwork*
What famous artists or paintings are from your homeland? What is a skill or trade (like weaving and pottery) that is practiced in your homeland?
Tip: Does a piece of art speak to you? Print it out and hang it up!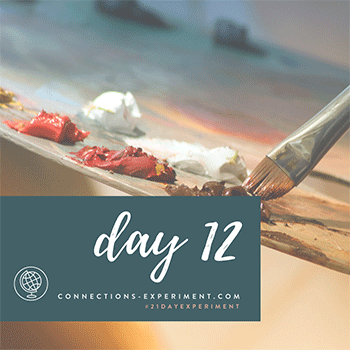 "It's not just about creativity, it is about the person you're becoming while you're creating." -Charlie Peacock 
Now that you have looked up famous artists and art, gather your favorite art supplies and make a piece of artwork that reminds you of your homeland or ancestor from that area.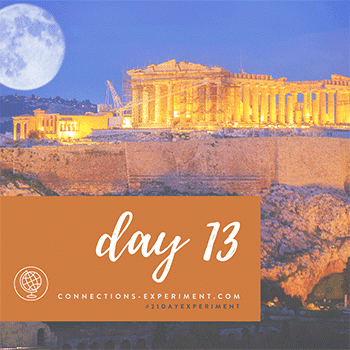 Virtually visit your homeland
"Traveling leaves you speechless, then it turns you into a storyteller." -IBN Battuta
Plan a trip to your homeland. Where would you go? What places would you like to visit? Virtually travel there using Google Maps satellite view. There may also be some virtual tours available online as well. Find an address where your ancestor lived in your homeland (Census records are great for this) and search for that address in Google maps.
"Wherever you go, go with all your heart" -Confucius
What are the major landmarks in your homeland? What areas are well-known in your homeland? Use items around your house to recreate your favorite landmark (or all of them). Share them with us on social media!
"Marriage cannot be severed from it's cultural, religious and natural roots without weakening the good influence of society." -Jack Kingston
What are the wedding traditions of your homeland? Compare them to your tradition in your country or family. Find a marriage record for your ancestors that lived in your homeland. Write a story about your ancestors' wedding using the details and customs you learned about.
"In a world full of trends, sometimes (you) just want to wear something classic." –Shilpa Ahuja
Research traditional clothing from your homeland. With the clothes you have on hand, try to recreate your homeland's traditional outfits! Make sure to take a picture and share how you look!
"Have a sense of pride in your motherland. Just as your mother has given birth to you, so too the land has given birth to you." -Sathya Sai Baba
Find out what the national anthem of your homeland is and listen to it. Read the words. How do you feel after listening to it?
"Sports is like rock 'n' roll. Both are dominant cultural forces, both speak an international language, and both are all about emotions." -Phil Knight
Find out what sports are played in your homeland. Are they unique to just your homeland? Pick one, learn the rules, and play it with your family or friends! Try to find a recorded event and watch it.
"Everything I learned, I learned from the movies." ― Audrey Hepburn
Find a movie that takes place in your homeland. Make a treat (homeland traditional or your traditional) and watch the movie. 
Talking with someone that lives in your homeland is a great way to get to know more about your homeland! Try to find a pen pal that lives in your homeland and write a letter or email to them introducing yourself and asking some questions about your homeland. 
Tip: Read this article to learn where to look and how to be safe. Or look on social media for a group emphasizing your homeland.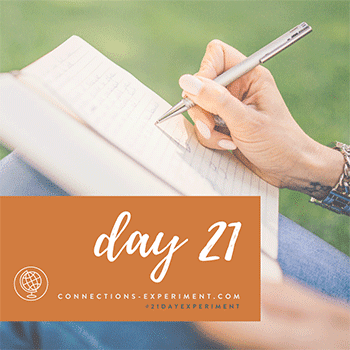 You did it! You just spent the last 21 days connecting with family and friends!  You connected with the past, present and the future. Congratulations!
Click the link below to take your post-experiment survey and to complete your final check-in. Even if you didn't complete all 21 days, we still value your input. Thank you!
Share what you learned with us: Facebook, Instagram, Twitter, or TikTok!
Easy images to share and invite others to join you: