Celebrating Our Ancestor's birthday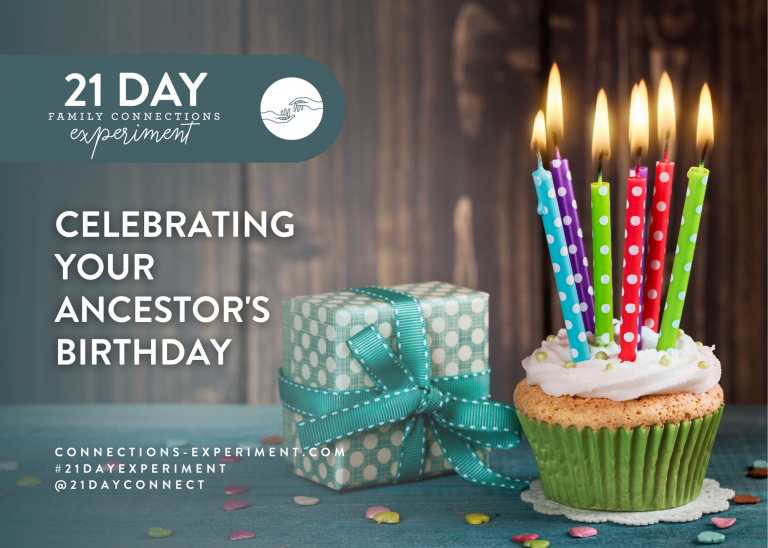 As a youth, I would have been the first to declare family history as BORING!  I was quick to tune out the minute it was brought up.  I don't know exactly what it was, but I feel like the presentation of family history turned it off for me.  
Genealogy is a very important aspect of my religion.  In the past, I interpreted it as an obligation more than something I could be interest in.  In my mind, I put family history on a shelf, as an item to be picked up and worked on in my retirement years!
Fast forward a few years, a few experiences later, I am happy to report that I am an avid family history nerd… the names, the dates, the stories, the connection, I love it all!
Now here I am, a mom of six, with a passion that I want to share with my children.  Even more than simply sharing it with them, I truly hope that I can present family history in a way that will open their eyes to the beauty of their Ancestors.  I'd hate for them to spend half of a lifetime believing that family history was "boring"!
In my efforts to make family history fun, we have created a tradition of celebrating our ancestors birthdays!  
I'd love to share with you how we do it and give you some ideas to make it flexible and work for your family.
Who & When to Celebrate
We typically celebrate a month of Ancestor birthdays in one night.  I have this handy Ancestor Birthday Calendar  that helps me keep track of our Ancestors Birthdays.  I don't plan a celebration every month, but we have 1-3 parties per year.  Do we plan them far in advance? Not so much in my house, but you could!  We just do them when we feel like it.  I mean, who doesn't love an excuse to eat cake?!?
Here's a few more ideas for deciding who and when to celebrate:
Celebrate just one of your ancestors at a time and celebrate on their birthday!  This could help you create a deeper connection with that ancestor.  
Choose an ancestor that you may have known before they passed, it could be a beautiful way to keep their memory alive in your family.
Celebrate quarterly or half of the year at a time.  Include all the ancestors within that time frame.  This would work especially well if you are working with a smaller list of family names.
Choose ancestors that you would like to get to know better.
Party Decorations & Treats
Am I allowed to admit that this is might be my favorite part?!  I like to change it up almost every time we have a party, so let me just list off some of my favorite ideas decor and treats!
With 6 kids, we have a lot of birthdays and I am the budget queen… so, I like to save the 3+ odd plates, silverware, balloons, streamers, etc. from our regular birthday parties and throw them in our party box. Then, I let the kids have the time of their lives.  I pull out the box and tell them to decorate however they want!  Believe me, you littles will LOVE the unconstrained, no rules to decorating approach!
Print and tape up photos of your ancestors! Hang them around the room or even cut them out as cupcake or cake toppers. Make the party really showcase who you are celebrating.
Have the kids make the decorations.  Tell them about their ancestors while they do it, maybe it'll inspire something fun!
One of our favorite decorations is our Family Worth Celebrating Balloon Art. This cute little art piece we put behind glass, but then tape the balloons to the glass.  The little balloons are labeled with the ancestors that we are celebrating!  My favorite thing about this little art piece, is that it can be hung and changed year round, even if you are not having a party every month.
Use a chalkboard or poster board to display the names of each ancestor you are celebrating.
Bake a Cake, just like any other birthday!  You could put a candle on for each ancestor.  
One year, we used frosting to write the age of each ancestor on cupcakes.  It was a fun way to highlight the ancestors individually.
Ditch the traditional cake or cupcakes and bake a special desert from your ancestor's homeland!  This would be a fun way to really connect and teach about the ancestor.
Party Activities
Just like decorations, I love to mix up the activities every time.  And let's be honest, THIS is actually my favorite part!  This is where the magic happens, where I learn and my kids learn about their ancestors.  Even more than that, we make memories and connections that draw us closer to each other and our ancestors.  
Wrap up some mementos of your ancestor as "gifts" for your party! After the kids open them, tell the stories behind each item. 
Before the party, have each family member learn about one of the ancestors being celebrated and have them share what they learned.
Sing "Happy Birthday" to all of your ancestors and see if you can squeeze in all of their names into the one song.  This one is pretty fun!
Make birthday cards to your ancestors and tell them a little something about you!
Send Birthday Postcards FROM your ancestors to unsuspecting family members (cousins, aunts/uncles, grandparents, etc.)  *See the link for instructions.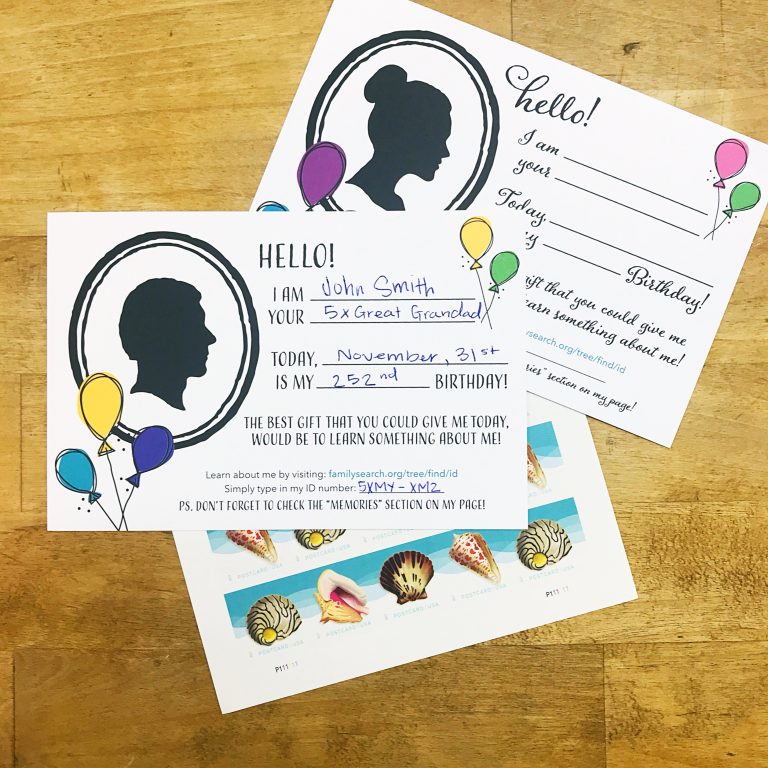 Learn about or recreate any fun traditions from your ancestor's homelands.
Share any photos, videos or stories about your ancestors.  Have an open discussion!
Share
Now that you've heard about my parties, I want to hear about yours!!  Take pictures and share your party on social media.  This is a great way to inspire others to get involved in their own family history!  Tag either @carolynn.reynolds or @branches.art on Instagram and use the hashtag #familyworthcelebrating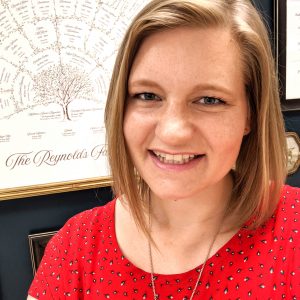 CAROLYNN REYNOLDS
Founder, Content Manager & Designer
branchesart.com
IG: @branches.art
Carolynn is a Wife & Mother to 6 littles. Her family is her favorite! She lives in Spanish Fork, Utah & loves it there.
She is founder & co-owner of Branches, a business devoted to celebrating family past & present.
She is a family history addict & loves sharing this passion with anyone & everyone! She also enjoys swimming, biking, painting, calligraphy & picking up any & all creative hobbies.